Lake Tansi FUNd Tournament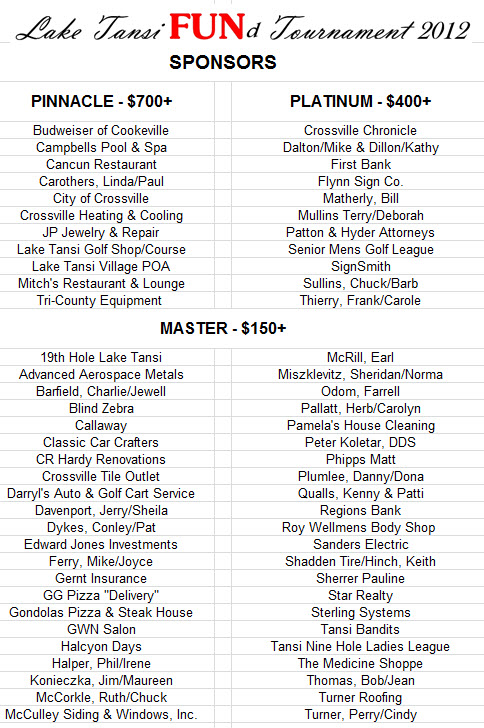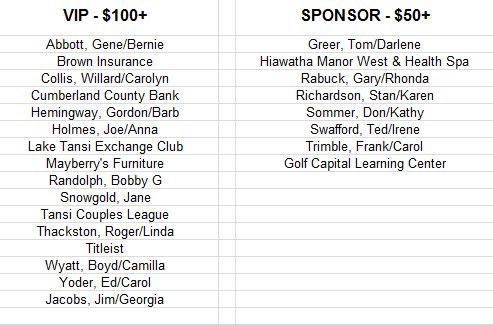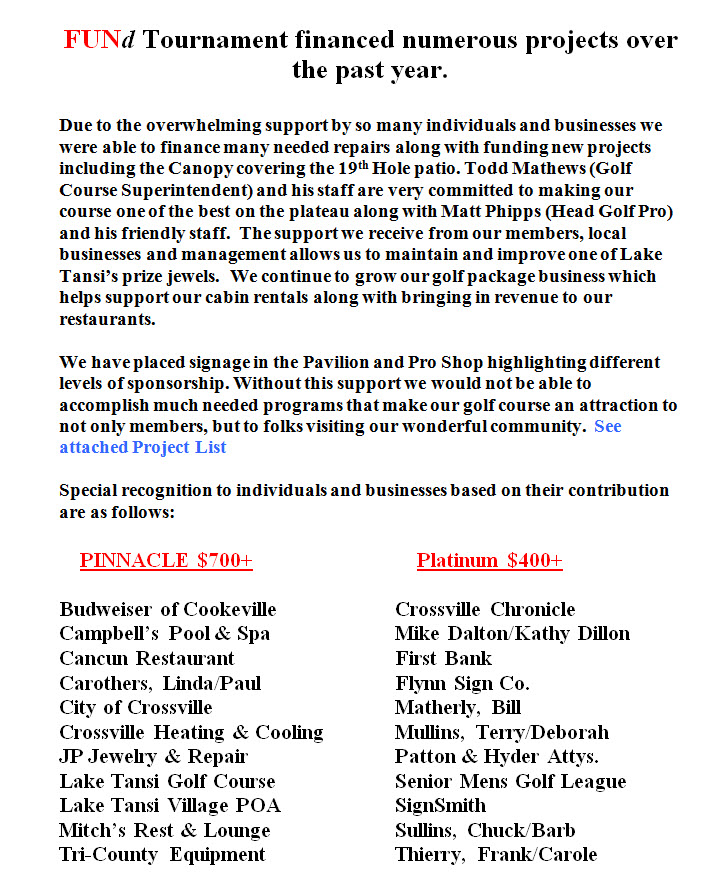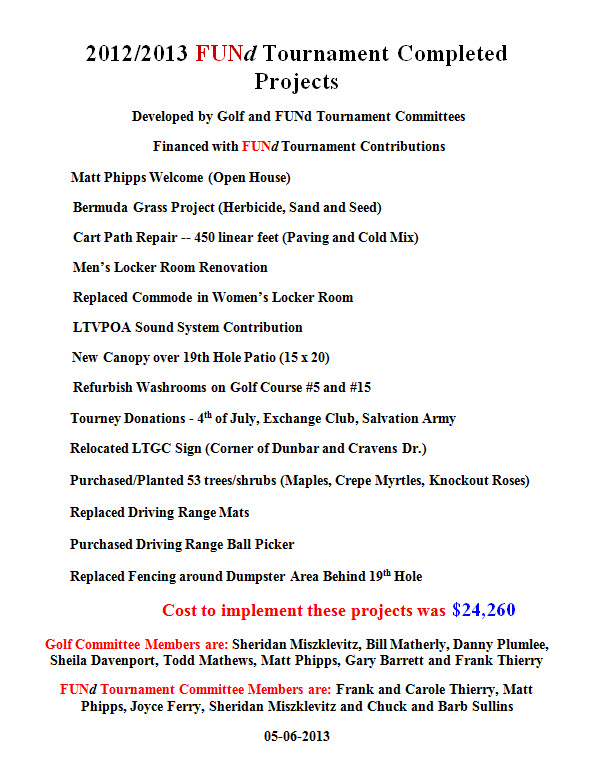 Mitch's Supports Lake Tansi
Mitch's Restaurant has teamed up with the FUNd Tournament to offer a "FUNd Meal" each night of the week. For every "FUNd Meal" sold, Mitch's will donate $1.00 to the FUNd Tournament. Each night we feature a different meal.
Wednesday:Grilled chicken breast smothered with mushrooms and swiss cheese, served with rice, vegetable of the day and soup or salad for $12.
Thursday:We feature our famous fried chicken buffet for $11.50.
Friday:We offer a sweet and spicy shrimp over rice, vegetable of the day and soup or salad for $12.
Saturday:The FUNd special is chopped sirloin smothered with mushrooms, onions, and gravy, served with red roasted potatoes, vegetable of the day and soup or salad for $12.
Individuals and businesses continue to contribute to the FUNd Tournament allowing them to improve and enhance the golf course along with community projects that are needed (i.e. Upgrade sound system at Thunderbird, Weather Warning System, New Canopy over the 19th Hole, Defibrillator for Security, Supplies to refresh the exterior of Mitch's and the Marina as well as donations to the Exchange Club and Salvation Army.
We will be offering these specials till October 1st. To date Mitch's has been able to donate almost $300.00 with help from you ordering the "Fund Meals". Please continue to support Mitch's and come on out and enjoy a fine meal while contributing and supporting our effort to make Lake Tansi a place we are all proud of.
Please leave rakes inside the bunkers
By Todd Mathews
Golf Course Superintendent
At Lake Tansi golf course we ask that golfers please leave the rakes inside the bunker edge after each use. We have 40 bunkers on the course and each one has 2 rakes. When mowing around the bunkers, if the operator has to get off and on his lawnmower 80 times to replace rakes, time and payroll are being wasted. The U.S.G.A. has no rule against leaving a rake inside a bunker. So, in an effort to increase productivity and reduce expense, please leave the rakes inside the bunker when you are finished raking the sand. Thank You!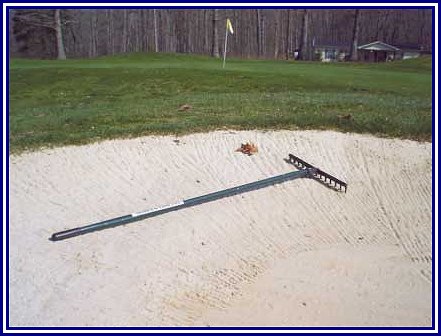 Raking the ball out of the cup is not good
By Golf Course Club Pro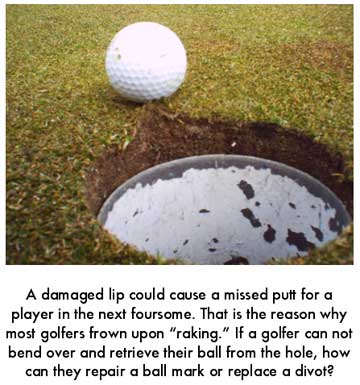 The right way to repair a ball mark
By Todd Mathews
Golf Course Superintendent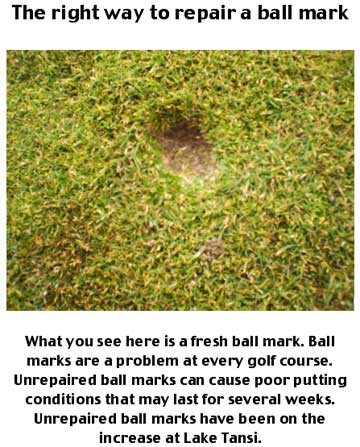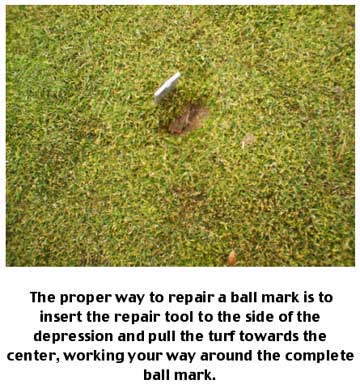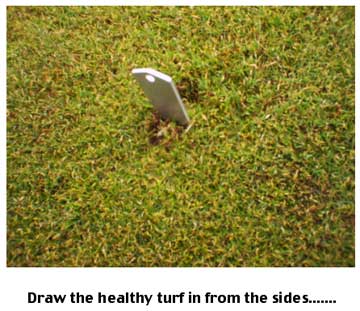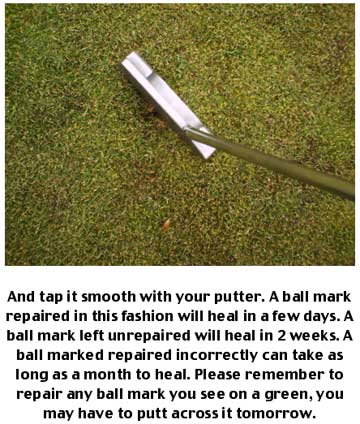 The wrong way to repair a ball mark
By Todd Mathews
Golf Course Superintendent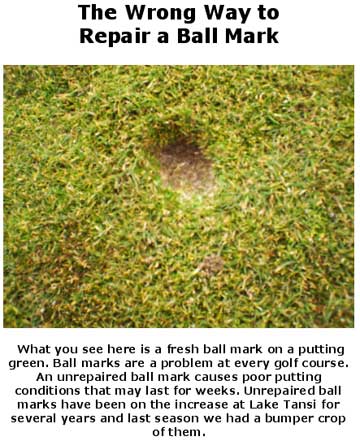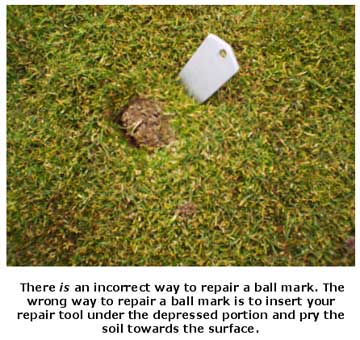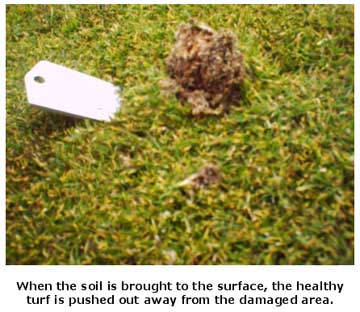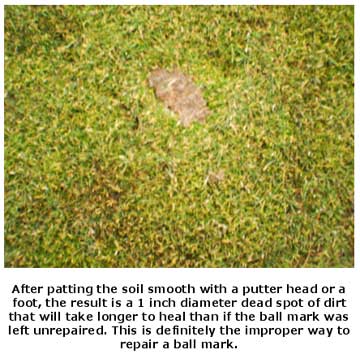 You don't need a green thumb to make a divot grow
By Todd Mathews
Golf Course Superintendent